Take care of your nails – Anywhere & Anytime!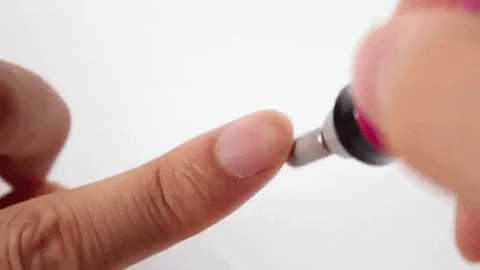 This NailPen is designed to give you the freedom to do your nails anywhere you go!
Nail Removal– Works on natural, acrylic nails or 

hard/ soft gel nails

and removes gel or colour nails in a few seconds.
Minimal Noise– Advanced noise reduction motor with almost no vibration on polishing head during operation to ensure safety.
Multi-function Nail Care– Used for manicure, pedicure, polishing and removing excess cuticles, calluses & corns. Best investment for DIY nails.
Easy to Use– Plug in. Insert Attachment. Go. It's as simple as that! The sets with 6 standard metal bits and 6 sanding heads, easy to replace without tool.
Take beauty in your hands– It's range of attachments allows you to trim, remove and polish your nails. With 6 drill bits, all your needs are covered!
Affordable– The price of the NailPen is the same (if not cheaper) than a trip to the salon!
Adjustable Speed– Adjustable between 0-20000rpm with 

speed control button

for easily polishing nails.
Ergonomic Design– Ergonomic Pen shape design for secure & comfortable grip.
Efficient Heat Dissipation– Low heat operation to avoid overheating and damage.
Package Includes:
1 x Electric Nail Drill Machine
1 x USB adapter
6 x Bits (5 diamond bits + 1 emery rod)
6 x Sanding Bands
Bring home this NailPen today & make your nails look wow.